You can order checks from the Credit Union's check printer Harland Clarke, or another check printer. If you are ordering from another check printer, be sure to provide them with the correct routing number and account number (including check digit), otherwise your checks may have to be cleared manually and be subject to a fee. If you are uncertain what information to provide, call us at 323-505-2600.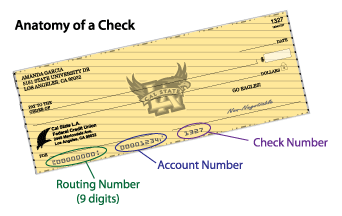 Routing Number
This number is 9-digits and is located in the lower left corner of your checks. We do not publish our routing number online, but you can call us for this information.
Account Number
This number is preceded by several leading zeros and has an extra digit on the end, the 'check digit.'
Note: The check digit is only necessary when ordering checks. Do not use the check digit when logging into Online Banking, Mobile Banking or our after-hours call center. Using the leading zeros or check digit will result in your account not being recognized.
The cost of checks varies according to style. You can also come in to review the catalog of available styles and place an order in the office.
It takes 7-10 business days from the date your order is placed for your checks to arrive. You can also send checks FREE using our Online Bill Payer.